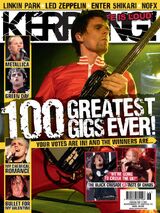 Kerrang! is a weekly rock-music magazine published by Bauer Consumer Media in the United Kingdom. The magazine's title is onomatopoeic and derives from the noise made when smashing an electric guitar.
Enter Shikari have appeard in a number of issues over the years:
1099 - voted as the # best gig ever.
Ad blocker interference detected!
Wikia is a free-to-use site that makes money from advertising. We have a modified experience for viewers using ad blockers

Wikia is not accessible if you've made further modifications. Remove the custom ad blocker rule(s) and the page will load as expected.